Speaking a Heavenly Language
For then will I turn to the people a pure language, that they may all call upon the name of the LORD, to serve him with one consent. Zephaniah 3:9
I am currently studying Setswana. Setswana is a language spoken in the southern region of Africa. It is a language that is very different than my own. It has its own sounds and intonations And even the culture plays a major part in how the language is spoken.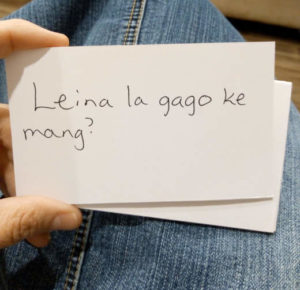 Learning a Heavenly Language
Just as you learn a foreign language you must learn to speak a Heavenly language.
When I was a young Christian I was amazed at all the things God was doing in my life. I recall not long after my salvation how the Lord impressed upon my heart the need for God's people doing things God's way. And had an insatiable desire to learn more.
"But he knoweth the way that I take: when he hath tried me, I shall come forth as gold." Job 23:10
But it wasn't long as a Christian before trials came and I was derailed in my desire to know more. It had been a particular incident when a missionary friend of ours died and I had become extremely upset with the Lord. It took 10 years and many trials through those years to overcome my secret disappointment.
Absolute Surrender
When God broke me as His child my theme song immediately became, I Surrender All. Absolute surrender of who you are, your thoughts, your mannerisms is essential to language learning. Personal biases and ideas can hinder you from learning the language effectively.
In fact, you must be like a little child. That is how I am learning Setswana. No matter how I have spoken English or my heart language of Spanish, Setswana comes with its own speaking rules.
The same goes for God's heavenly language. No matter what my personal experiences in this life I must now embrace the full experience of learning a heavenly language.
So, after many years I could hear the voice of my Lord. It came through a song I heard on YouTube called, I Have Been Blessed.
Thankful
In every thing give thanks: for this is the will of God in Christ Jesus concerning you. 1 Thessalonians 5:18
Thanksgiving to our awesome God is essential because it is the will of God in Christ Jesus.
And it is in Christ that our minds and thoughts are altered. A hunger for God's presence grows and God's word becomes precious to you.
When you are thankful your heart rejoices. and as you read God's word hidden treasures are revealed to you.
Accepting God's Weaving Hand
Not that I speak in respect of want: for I have learned, in whatsoever state I am, therewith to be content. Philippians 4:11
No matter how God works in your life you can learn to be content with joys and trials. And you can also confidently rest in that all things do work together your good and His glory.
This frame of mind sets the pace in order for you to discover peace and contentment as you learn God's heavenly language. And as Paul and Silas sang in a prison cell, you too will sing.
Immersed in the Heavenly Language
As missionaries learning a foreign language we know immersion is the best method. What this means is that in order to learn a language effectively you must be living among the people. So, in order for me to learn Setswana more effectively, it will be when I live among the people of Botswana, one of the regions that speak the Setswana language.
It is here where I will discover their specific Setswana dialect as well as adapt the language to the given culture of that region.
But now hath God set the members every one of them in the body, as it hath pleased him. 1 Corinthians 12:18
The church, meaning the people NOT the building, is essential for growing our heavenly language. Here among God's people our heavenly language learning grows. This is where we encourage one another in the Lord and rejoice in His word.
We Love the Church Life (Lyrics)
1. Some, these days, would tell us that our Jesus is not food,
That we only need to know about Him and do good,
But we're glad to tell you brothers, it's just not that way—
Jesus is the bread of life; we eat Him every day.
* We love the church life, eating,
drinking, breathing Jesus.
We love the church life, taking
in God's Word.
We love to hear those "O Lord,
Amen, Hallelujahs!"
We love the church life, feasting
with the Lord.
2. When He fills our inward parts, we're never quite the same,
So much richness we can taste by calling on His name.
"Services" but once a week for us will never do.
Every day we need the fellowship to take us through.
3. If these latter days and situations of the world
Make you feel that round a vicious circle you are swirled,
Then please listen closely to the things we have to say;
It may be that you will find with us a better way.
As I continue studying Setswana I am aware to also study God's heavenly language. This is done through the ever awareness of His Spirit in me (abiding presence of Christ) and through daily meditation in God's word.
There are benefits to learning a new language. You are taken out of your comfort zone and challenged in ways you have not thought about. It is the same when learning God's heavenly language. May you be encouraged to daily discover more of your Lord in His presence, His word and being in fellowship with the brethren.
But the hour cometh, and now is, when the true worshippers shall worship the Father in spirit and in truth: for the Father seeketh such to worship him. John 4:23
To GOD be ALL the GLORY
In His hands,
Ann Marie Moore